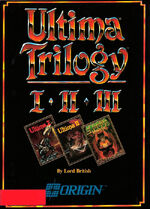 Ultima Trilogy I II III
is a compilation of
Ultima I
,
Ultima II
and
Ultima III
, released by
Origin
in 1989. It was available for the C64, Apple II and IBM-PC.
Its contents are:
All three of the games. Ultima II was altered to remove all references to Sierra (Origin had regained the rights to the game from them).
A combined handbook for all three of the games, called Ultima Trilogy Manual.
Three cardboard maps (one for each game).
Note that the real cover art for Ultima II isn't used on this collection's box. That's because Sierra for was unwilling to release it to Origin, regardless how much they were offered. In its place is a mock-up adapted from the original cover of Akalabeth.