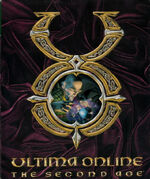 Ultima Online: The Second Age was the first expansion for the Ultima Online MMORPG. It added several features to the game, including a new region called The Lost Lands, new creatures, and support for player-built cities.
The Second Age was developed by Origin Systems and published by Electronic Arts in 1998. It was the last Ultima Online expansion designed by Raph Koster.
Critical reaction to the game was mixed. The Second Age was given the "Online Role-Playing Game of the Year" award at the 1999 Interactive Achievement Awards. Many reviews criticized The Second Age for not expanding the game enough, especially since gamers were anticipating the 3D MMORPGs EverQuest and Asheron's Call.
Included with the game
[
]
The Second Age came with the following items:
A paper map featuring a map of Britannia in Ultima Online on one side, and a Lost Lands Map on the reverse.
External links
[
]
See also
[
]
---