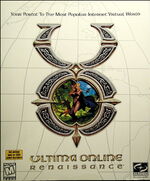 Ultima Online: Renaissance
is the second expansion to the popular
Ultima Online
(UO)
MMORPG
. Released on April 3, 2000, it added content, fixed bugs, and made gameplay changes in response to common player complaints.
Prior to its release, the expansion was said to double the amount of room in the game, but that it would not use a duplicate of the map, rather it would be adding new content. It was later found in the previews that Renaissance simply added a mirror world under different rules. Felucca and Trammel were created, the first one with "player vs. player killing" allowed, and the second with only consensual combat. In game terms many considered this a breaking factor. It was argued that the creation of Trammel signaled the end of traditional, realism-oriented UO, where all characters were forced into dealing with one another, including being murdered and robbed.
By 2000, many prospective players considered Ultima Online dated, despite the efforts of updates and expansions such as Renaissance. The influx of fully 3D MMORPGs such as EverQuest (1999) started to impact the commercial growth of UO. The game has not seen significant increases in its number of subscriptions in years. Fans of UO sometimes note that UO was the first highly successful MMORPG and that Renaissance was its first reaction to a competitive market.
---
Community content is available under
CC-BY-SA
unless otherwise noted.