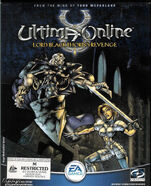 Ultima Online: Lord Blackthorn's Revenge (2002) was the first of the two "darker" Ultima Online MMORPG expansions (the second being Ultima Online: Age of Shadows). The game featured creatures designed by Todd McFarlane (creator of Spawn in comics), originally intended for the cancelled Ultima Online 2. It also added new music in the mp3 format, as opposed to Ultima Online's original MIDI music, some of it borrowed from Ultima IX. The story is about the return of Lord Blackthorn, the corrupt noble who usurped the throne of Lord British in Ultima V: Warriors of Destiny. Included in the game box was a comic drawn by McFarlane.
Trivia
[
]
The game box art is drawn like a cartoon, something avoided on other boxes. This may be related to McFarlane's involvement.
Unusual for Ultima Online, the first edition came with a trinket in form of a Lord Blackthorn Action Figure.
See also
[
]
---