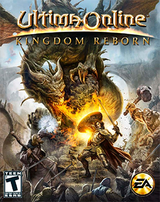 Ultima Online: Kingdom Reborn is the eighth expansion for the 1997 MMORPG Ultima Online. It is planned for release in spring 2007 and will be an upgrade to the game's graphics. This expansion is almost entirely focused on the client upgrade. The Stygian Abyss expansion comes out a few months after with content additions, which will require Ultima Online: Kingdom Reborn.
A series of clues provided by developers via an in-game event arc has allowed players to find a URL on the Ultima Online website wherein a simple message is contained as well as a Flash movie featuring screenshots of the upgraded graphics.
Recommended specs
[
]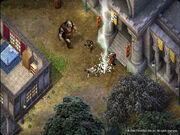 At a players' convention in Atlanta, EA announced that the recommended specs for the UO:KR client are a 1GHz CPU, a GeForce 3 series video card (low end enough to be considered obsolete by the manufacturer as stated on its Internet site), 2GB of hard drive space, and 512MB of RAM. They stated that they had "some success" running UO:KR at 256MB RAM, but that 512 was recommended.
EA has referred to the UO:KR client as "2.5d," meaning that it was written in 3d and then effectively backslid into 2d to make it easier for lower-end computers to run. And, presuambly, to maintain the "feel" of the game.
The client will be available as a free download for current players of the game.
Although the client when announced had a release date of "Spring 2007," remarks made by EA at a player convention in New York City in fact suggest that the beta test will not start until June 2007.
See also
[
]
External links
[
]
---