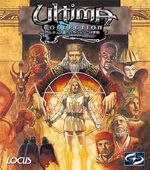 The Ultima Collection is a compilation of games that contains all the main Ultima games released up to the point of its release; that is, Ultima I to Ultima VIII. The collection does not include Savage Empire, Martian Dreams, Ultima Underworld, and Ultima Underworld II. It was released on February 17th, 1998.
The Ultima Collection was the last official release of any of these games by Electronic Arts or Origin, which has made this highly sought after by enthusiasts and collectors.
The Ultima Collection was later included in the Ultima Complete Japanese compilation, and in the Dragon Edition of Ultima IX.
A companion guide, Prima's Official Guide to Ultima Collection, was published at the same time that this compilation.
Included with the game
[
]
Together with the game in a CD came the following things:
An install guide
The "Ultima Atlas", which consists of black-and-white photocopies of the maps of the games.
CD contents
[
]
The CD included in the release contained the following materials:
All the main games from Ultima I to Ultima VIII, including Ultima VII Part Two: Serpent Isle, and the expansion packs for Ultima VII and Ultima VII Part Two.
Akalabeth, which was ported to the PC specifically for this compilation.
All the books are included in several formats: plain text, Microsoft Word 97 DOC files, and Microsoft WinHelp help-files. Some of the illustrations in the documentation are rather pixilated.
All the color maps are included as Microsoft WinHelp help-files. Some of the maps are strangely divided, making it difficult to put them back together.
Interviews with Richard Garriott, where he describes some backgrounds of the games.
A sneak preview to the version of Ultima IX that got axed (see Development History of Ultima IX), including a trailer.
Trailers for several games: Ultima Online, Wing Commander Prophecy, Sid Meier's Gettysburg and F-15.
Two demos, for the games Wing Commander Prophecy and Sid Meier's Gettysburg.
A slowdown program named "MoSlo".
Japanese Version
[
]
The Japanese edition came out with a vastly different game box (pictured), and included an simple manual,instead of original manuals and maps which created for Japanese version. Also, it had a special edition with the covers of all the games as game cards. It included Japanese version of Ultima I to VI and VIII which traslated into Japanese,and I to V are re-programmed from scratch with new graphics.The exception of Ultima VII which was never translated to Japanese.Akalabeth isn't included this package.