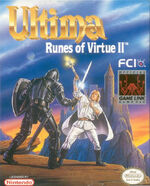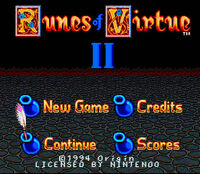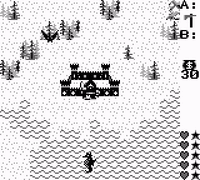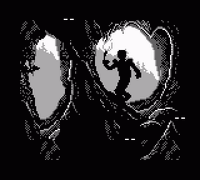 Ultima: Runes of Virtue II was developed by Origin and published by FCI for the Nintendo GameBoy in 1993. A port for the SNES followed in 1994.
Like its predecessor, Runes of Virtue, this is mostly an action-adventure game similar to the Legend of Zelda and offers basically the same gameplay. The land is however much bigger this time, with actual cities to explore and more NPCs to see, and longer dungeons.
Like the first episode, this game is again capable of multi-player.
Included with the game
[
]
The GameBoy version only comes with an instruction manual, and nothing else in the box. The SNES port additionally has a paper map of Britannia
Differences between the ports
[
]
Besides the original GameBoy version, there also exists a port for the SNES.
The SNES port plays the same, but of course has much better graphics and sound. It is however lacking the multiplayer mode of the original GameBoy game. Other than that, there are no differences between the ports.
The Story
[
]
---
Spoiler warning: Plot and/or ending details follow.
---
The Black Knight has returned and has kidnapped the mayors of the eight cities of Virtue of Britannia. Lord British summons the Avatar to deal with this threat once and for all.
---
Spoilers end here.
---
Trivia
[
]
Ultima: Runes of Virtue II was released in Japan as Ultima Gaiden.
While the player is clearly identified as the Avatar and summoned through a blue moongate by Lord British, he still get to play one of the Avatar's companion that he choose at the beginning of the game. Interestingly enough, the companions are depicted with a visible ankh on their clothes, as if they indeed were the Avatar.
The game shares many NPCs with Ultima VI such as the mayors, which would imply that it occurs either shortly before or after the events of that game.
Other box art:
External Links
[
]
---