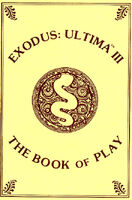 The Book of Play originally came packaged with Ultima III. It is 22 pages long. No "in-game" author is given, but in real-life, Margaret Ellen Weigers and Roe R. Adams wrote the book.
The following topics are part of the book:
Foreword
Instructions
The town facilities
The Story so far...
The Book of Play is superior to its predecessor and is better written, with more accompanying illustrations. It does not follow the later tradition of the manuals being written from an "in-game" perspective.