These peaceful animals are Britannia's main source for wool.
Sheep can live anywhere in the wilderness, but the most of them exist on New Magincia.
Once introduced in Ultima VI, sheep stayed the same. A small curiosity is that in Ultima IX, all sheep were exchanged for goats.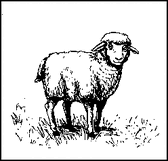 Among the most docile of the beasts of the field, flocks of these highly beneficial creatures served the common good by providing wool to the garment- and rug-makers and fine mutton to the pubs.
- from Compendium (Ultima VI)
These non-threatening beasts are raised by shepherds, who take them out to graze in great numbers. Sheep produce both wool and mutton.
- from The Book of Fellowship (Ultima VII)
Another domesticated animal, sheep are our source for mutton and wool.
- from Beyond the Serpent Pillars (Ultima VII Part Two)
In Ultima VII Part Two, continuously double-clicking on a sheep will result in the Avatar shocking his companions severely as well as likely upsetting the sheep in question