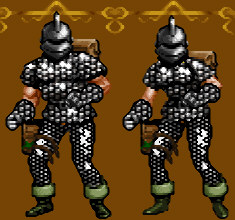 Scale armour
consists of overlapping scales fashioned in the form of a tunic, most likely attached to a leather or cloth backing. Scale armour provides more protection from bludgeon attacks; however, it does not cover as much total area as chainmail. Additional drawbacks are the hefty price and equally impressive weight.
Scale armour was first introduced in Ultima V.
Defensive Values
Edit
| | |
| --- | --- |
| Piece | Defense Value |
| Chest | 2 |
| Closed Helmet | 3 |
For the other body parts, pieces from other armour classes have to be used, because they don't exist in a scale variant in Ultima VII.
Fashioned from four to six inch square overlapping plates attached to cloth or leather gambeson, scale armour looks like its name-sake; fish scales. Although scale is often somewhat noisy, it offers good protection.
- from Book of Lore (Ultima V)
Community content is available under
CC-BY-SA
unless otherwise noted.