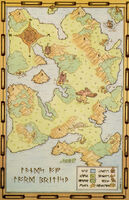 The Lands of Lord British was one of the original continents of old Sosaria, ruled by Lord British and the Lost Kings in tandem. The Stranger visited them in Ultima I to get one of the gems for the time machine. With the defeat of Mondain, Sosaria was sundered apart, and the Lands of Lord British was the only of the four continents remaining.
The Lands were called Sosaria from then on, later becoming Britannia after Ultima III.
Locations
Edit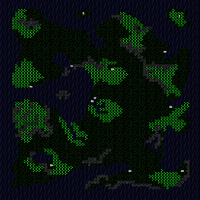 The Castle of the Lost King
The Castle of Lord British
Signposts
Edit
The Pillars of Protection[agility]
The Tower of Knowledge[protection]
Dungeons
Edit
The Dungeon of Perinia
The Lost Caverns
The Mines of Mt. Drash
The Mines of Mt. Drash II
Mondain's Gate to Hell
The Unholy Hole
The Dungeon of Doubt
The Dungeon of Montor
Death's Awakening
Community content is available under
CC-BY-SA
unless otherwise noted.