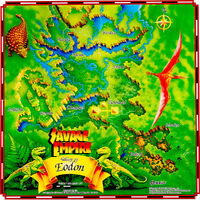 Eodon is a jungle-like, enclosed valley, where dinosaurs and other prehistoric creatures live beside humans. It was visited by the Avatar in Savage Empire.
This strange mixture of worlds was created by a huge, corrupted moonstone. The valley of Eodon was actually on Earth, but the moonstone somehow put it out of phase, making it inaccessible and unmappable. Dr. Rafkin first put forth this hypothesis, which was confirmed by a Xorinite Wisp. Only the Orb of the Moons allowed travel into the valley.
The tribes of the valley of Eodon were magically drawn from varying periods and locations in history, such as the aboriginal nations of Mesoamerica and tropical Africa. However, the enslaved people gained freedom, when their slavers were (mostly) destroyed by their own creation, the Myrmidex.
The valley was threatened to be destroyed by the corrupted moonstone in the hands of the Myrmidex Queen, but thankfully the Avatar was able to prevent this disaster and destroy the threat of the Myrmidex as well.
Important Locations
[
]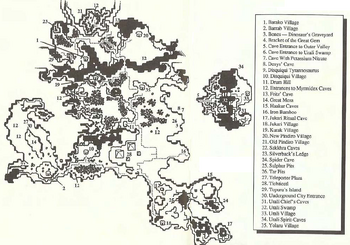 Tribes
[
]
Other Locations
[
]
---