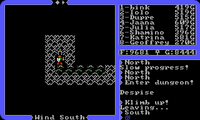 The Anti-Compassion Dungeon of Despise was first entered in Ultima IV. Deep in its depths the Stranger found the Altar of Love and the Yellow Stone.
Walkthrough
[
]
The dungeon Despise can be a little confusing. The most difficult task is getting the Orbs on level 8, with one on level 4. The Yellow Stone in found on level 5.
On level 1, go east through the room with the headless and mimics to reach the ladder going down. On level 2, follow the path and exit the first room to the north or south, the second to the west to reach the ladder to level 3. On level 3, dispel the field and take the southern ladder. Exit the dungeon room on level 4 to the east, take the Orb, then descend.
On level 5, walk north through the secret door and the winds, dispel the fields and then go south until you reach the three-room configuration. Enter the middle room, kill the monsters and enter the TWO secret doors to go north and take the Yellow Stone.
Now backtrack to level 3 and take a different ladder down. Follow the ladders until you reach level 7. Go through the northern secret door and descend to level 8. Take the northern Orb first, then navigate through the rooms to get the other two.