Called by some the King of the Forests, these animals are also a good meat source. But unlike others, they will fight back if attacked.
They can be found in the forests of Britannia.
Lore
[
]
These graceful athletes of the forest can be spotted dashing through the shadows on sunlit afternoons. Deer are a good source of food, but be aware that the antlers they sport can do significant damage.
- from Compendium (Ultima VI)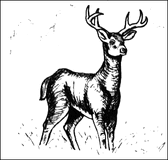 This swift but timid forest creature has sharp antlers to defend itself. It is the source of venison.
- from The Book of Fellowship (Ultima VII)
Another source of meat, deer inhabit the forests. Their antlers are more than adequate defense against most predatory beasts.