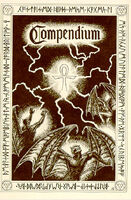 The Compendium comes with Ultima VI. It is 48 pages long. In-game, Lord British is the originator of the book, having dictated it to the scribe Moebius of the Lycaeum, and it is also used it as a part of the copy protection. In real-life, Greg Malone has written the book.
The following topics are part of the book:
Foreword
Travelling guide
Shops, commerce
The classes
Adventuring as a party
Cosmology
The book was written from an in-game perspective. At the time the book was written, Britannia was at war with the gargoyles, therefore portraying them in a negative light. Also, much of Lord British's point-of-view permeates the text. As a whole, it is well-written, very detailed, and versatile.
External Links