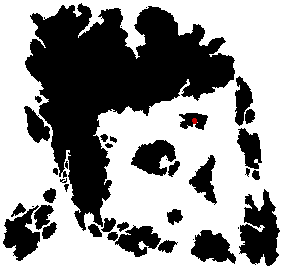 Description
[
]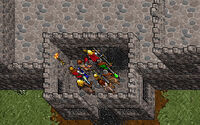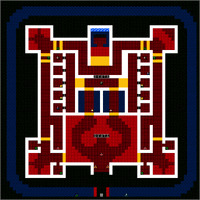 The Castle of Fire on the Isle of Fire is now a empty place. Once the fortress of Exodus, it is now the proving grounds for the test of the principles. However, other mysterious things seem to take place in the castle as well.
The castle was first seen in Ultima III, when it served as the nearly impenetrable island fortress of Exodus. The Isle of Fire was reachable by a moongate. However, the castle itself could only be reached by ship. The party had to fight their way through, to find and destroy the twisted offspring of Mondain and Minax. After that, it was repaired by Lord British as a test for the Quest of the Avatar, but the island sank before Ultima IV.
The castle and island reemerged in Ultima VII as a part of the Forge of Virtue expansion. Erethian the mage made it his home, and here he studied the Dark Core of Exodus. Here also could be found the daemon Arcadion trapped in a mirror, as well as the quests Lord British had set up so long ago.
Lore
[
]
Calling the Isle of Fire an island is a partial misnomer, for, thou dost see, there are actually three such islands. The main land, upon which sits the Castle of Fire, is by far the largest of the three. The castle is surrounded by mountains that contain several tunnels. Judging by what I have seen, these dungeons were excavated to hold the various tests designed to challenge the Avatar, for all three of them can be reached from within the castle walls. In addition to these entrances, the castle houses the Shrine of the Principles, in which can be found the actual three Shrines of Truth, Love, and Courage.
- from A Guide to the Isle of Fire (Ultima VII)
Inhabitants
[
]
---