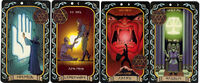 The Cards of Virtue are what the gypsy used in Ultima IV and Ultima IX to determine the starting virtue of the Stranger, who would become the Avatar in the end. They do not appear as usable items in the games, although they are seen as static items on some tables in Ultima IX. The cards look different in Ultima IV than they do in Ultima IX.
The eight Cards of Virtue were put into the original release of Ultima IX as a trinket. In addition to the name of the card, on each card is written an inscription made up of words of power.
Honesty: Sanct wis an quas.
Compassion: An nox uus mani.
Valor: Vas mani vas corp.
Justice: Sanct ex an jux.
Sacrifice: Bet corp vas mani rel jux lor.
Honor: An rel sanct wis.
Spirituality: An lor an corp.
Humility: Bet xen des grav.
There are goofs on the cards for Valor and Justice; Valor shows the moon phase for Spirituality, while Justice shows that of Humility. It's as if white and black were switched on the moon phases.