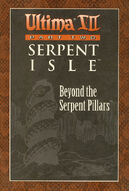 Beyond the Serpent Pillars comes with Ultima VII Part Two. It is 35 pages long. In-game, Erstam is the author of the book, and it is also used it as a part of the copy protection. The real author is Andrew Morris
The following topics are part of the book:
Foreword
Lessons of the past
Travelling guide
Magic and its assorted topics
The book is written from Erstam's point of view, and many of his personal beliefs and opinion flow into the text. It should therefore not be taken as an authoritative narrative, especially in regards to the history of Sosaria; the reader has to be careful of what to believe.
External Links
[
]